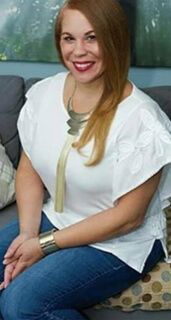 Denise Leslie
Medical & Sports Massage Therapist
Whoever said you can't live life pain-free, has yet to meet Denise Leslie. As a mother, entrepreneur, and health & wellness advocate; she is all about living a pain-free life. After several decades in the corporate world, she decided to take a leap of faith to do what she loves by giving people an opportunity to live a pain-free life. Being the pulse of behind Sandy Spring's premier Medical & Sports Massage practice has led her to pave the way for her therapists to help continue to touch lives of athletes & anyone currently suffering diseases that are painfully affecting their body on a daily basis. Denise stays busy and does not stop giving back, she founded Hands to Heal Georgia and is now raising money to help youth with stress & anxiety syndrome, Her Hands to Heal currently serves cancer patients receive Manuel Lymphatic Drainage to alleviate the effects of radiation on their joints, muscles, and overall mental well-being. Denise Loves her fellow therapist, and community and does not stop serving.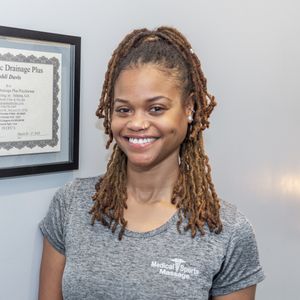 Ashli Davis
Medical & Sports Massage Practitioner, Graston 2 Certified Therapist, Manual Lymphatic Drainage Certified, LMT, NMT, Stretch Therapist, Reflexologist
Ashli has been a licensed Massage Therapist with Medical & Sports Massage for over a year. She has worked with hundreds of clients and has a passion for healing. She loves the satisfaction of the patients when her work has made a positive impact on their well-being. Ashli loves sharing her work with others and helping all of our patients reach their health and wellness goals! Ashli is skilled in multiple different modalities, allowing her work in session to generate optimal results for her patients. Ashli is becoming increasingly popular among our patients, so schedule with her while you can!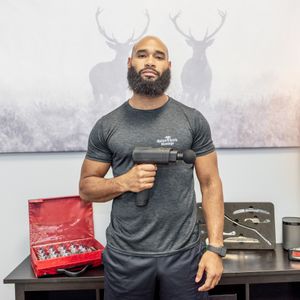 Carlos Salazar
Medical & Sports Massage Practitioner, Graston 2 Certified Therapist, Manual Lymphatic Drainage Certified, Stretch Therapist, NMT, LMT
Carlos joins the team with a lifelong commitment to service. After serving in the military as an Army Ranger, Carlos decided to pursue his passion of health and wellness. Carlos graduated Atlanta School of Massage in 2019. He is also an experienced Personal Trainer who loves coaching boxing, kickboxing, HIIT, and boot camp style workouts. His hobbies include martial arts, running, skydiving, hiking, and watching sci-fi thrillers. If you are a athlete wanting sports massage therapy working with Carlos is a MUST! He is also our very own Denise Leslie's personal trainer!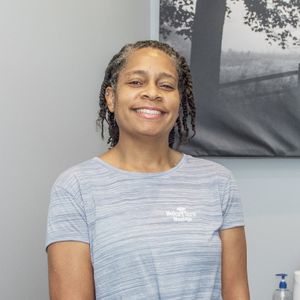 Camari Brown
Medical & Sports Massage Therapist
Reflexologist, NMT, LMT, Deep Tissue Specialist
Camari has been a practitioner for 10+ years, graduating from the Atlanta School of Massage. Camari is skilled and experienced in patient care and administering therapeutic massage. Camari is New Jersey Native and it shows in her humor and free-spirited personality. Camari finds joy in patient care, and she feels wonderful when her patients start feeling better, free from muscle tension, pain, and trigger points. Camari is very thorough with her patient notes and patient care to create the best experience for all that work with her. She communicates well regarding at home care and what to do after your visit. Camari loves her work, and cares for all who cross her path. We are Blessed to have Camari in our practice and you will understand just how wonderful and gifted she is once you have a session with her.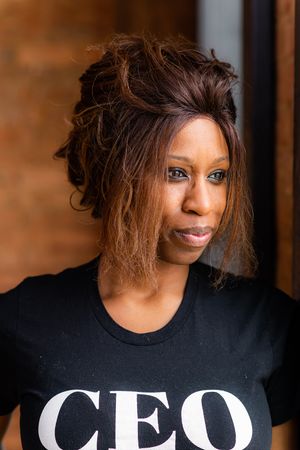 Tia Greene
Tia Greene is Medical & Sports Massage's Public Relations Manager and founder of her own PR company, Liebe Public Relations. Tia has worked with Denise and the rest of our team since 2017 to build our brand awareness and bring our quality services to a wider audience. If you are interested in PR, booking Denise for corporate wellness, yoga, meditation, speaking engagements or massage therapy for your team contact Tia- She will work with you to create the perfect outcome for your wellness needs, media engagements or corporate wellness bookings for Denise Leslie.
For any media + press inquiries, please get in touch with Tia Greene at Tia@liebepr.com